Our Clients Love The Doggie Playhouse - and You Will Too!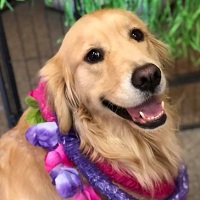 "My oh my… where do we start? How about with WE LOVE THE DOGGIE PLAYHOUSE!!!! From the first time we brought Killian for his first half day of daycare, to help us get him used to boarding when we were getting married, to the day when Killian got a day without his little brother, Tonka, because of the 'Skunk' incident! The Doggie Playhouse has been there for us every time and we love every day 'our boys' get to go and have fun! Tonka had his first stay there when he was a tiny puppy, and has grown up with you all, and I can honestly say, he's a better dog for it!
Each and every time we drop off or pick up 'our boys', there is not only a smile on the faces of all of the staff, but both Shawn and I, and most importantly Killian & Tonka! We can't even say the words Doggie Playhouse without both of them running to the door and waiting to go! And getting to see those happy faces on the website makes it even better. I even have the site book marked on my computer!
I've never met a more caring and kind group of people than the staff at The Doggie Playhouse!! Everyone not only cares for 'our boys' as much as we do, but they're always looking out for their (and our) best interests. From helping us shed some unwanted pounds from Killian, to helping us find training for Tonka, and even going the extra mile to help me 'de-skunk' Tonka after being sprayed (BIG BIG thanks on that one…PU!)!!
We are SO happy we have found The Doggie Playhouse, and are so thankful to have a safe and healthy place for our dogs to have fun. We are comforted to know they are in hands as good as our own!!"
-Betsy & Shawn Lanouette
---
"I have tried 5 other kennels prior to bringing Ginger to "Doggie Playhouse". You are by far the "Best In Class". The people are great and they really care about the dogs. I am a customer for life! Thank you for taking such good care of Ginger!"
-Dawn Fischer
---
"I recently had the pleasure of leaving my dog in the care of The Doggie Playhouse. As a first time dog owner, I have learned a lot from my 9 month old Shepherd/Beagle mix, Charlie. A big no-no… Do not board your favorite canine companion at the vet! It is hard enough for a dog to be left by his owners, and add to that being caged up and walked infrequently, if at all.
I take frequent two or three night trips and Charlie has visited four different facilities. After the vet boarding incident, we tried a Best Friends Pet Hotel. The name is attractive, but if you cannot afford playtime, which will double your boarding costs, this locale is no different from the vet. The Petsmart PetsHotel was our third attempt for Charlie's comfort away from home. It was ok, and expensive, and has such a corporate atmosphere. Fortunately, last weekend Petsmart PetsHotel was full and I tried in earnest to find a comparable place that would accept my dog last minute.
Since my trip crossed through Delaware, I sought a doggie daycare and boarding facility that could take Charlie in for the weekend. The Doggie Playhouse said "no problem", and I was in luck!! Charlie could play all day and stay overnight for only $30! In my experience, that is the cost of boarding with NO playtime. Anyway, Charlie had a blast playing with all of the dogs, which we were encouraged to watch right from the beginning. He got nervous and peed right away, but the staff quickly cleaned it up and was unphased by his mess. Charlie got to sniff the dogs one by one, and eventually play with them all.
The ladies working at The Doggie Playhouse clearly love dogs, and were well acquainted with all of them. They only went behind the desk to file my paperwork, and were otherwise consumed with maintaining the facility and ensuring the dogs were safely having a good time. I picked up a happy Charlie three days later, and even received pictures from his playtime with the other dogs!
I wanted a dog for the wholehearted fun they bring to your home, and I am so glad I can offer him opportunities to play to his heart's content at The Doggie Playhouse while I'm away. Since then he has been back many times and comes home just has happy as his first visit.
I am writing this letter because I want to share my experience with others, as I have moved up to Connecticut and cannot spread the word to the locals. I hope your dog enjoys his/her time at The Doggie Playhouse as much as Charlie always has!"
-Katie Sanders
---
"Being new to the area and both of us working full time we needed to take care of our dog, Lady, and not have to worry. Taking Lady to The Doggie Playhouse is great. We feel secure with her safety and well being, she has fun and is exhausted when we pick her up (a good thing). What impressed me was that I was able to take her prior to her start there and the owner, Kelli, walked her through with the other dogs to assure they would "fit in." All shot records were required and it says a lot, when the owner greets clients in the morning and personally takes their dog. The staff is friendly, courteous and it is obvious they love their dogs.
Thank you for all you do!"
-Ed and Connie Guthrie
---
"I am so thankful for Doggie Playhouse! Scrappy seems to know when Thursday comes and it's time for him to go to doggie daycare! He gets excited, and barks each time I pull into the parking lot. Scrappy loves playing with the other dogs, and has a blast while he is there. I love being able to pick him at the end of the day and he's exhausted...makes driving home that much easier and relaxing. The staff is extremely polite and friendly! The Doggie Playhouse and Staff have been so wonderful that my new puppy will soon join Scrappy in the excitement!"
-Crystal Wooler
---
"Our Puppy Noah started to go to Daycare as a way to socialize him with other dogs but we have certainly received much more from the experience. Noah had some dietary and training challenges in his first year and the staff of the doggie Playhouse were always aware of his needs and very helpful in moving his progress along.
My schedule changes frequently and everyone has been so accomadating with last minute changes. Even when Noah has been a stay over guest we can call and check in on him. We even received a call from the staff when we were away to ensure that all Noah's needs were being met.
I can't say enough about the difference it has made in Noah's well being. I tell as many people as I can that have new dogs to try some time at the playhouse."
-Anna Geortler
---
"I absolutely LOVE The Doggie Playhouse. I highly recommend your facility to other dog owners. I would never consider putting Maximus in another facility. The Doggie Playhouse is his Home Away From Home. Thanks for all you do to help me feel great about entrusting you with one of my most treasured possessions."
-Sylvia Wyatt
---
"We are so lucky to have found The Doggie Playhouse! Peanut absolutely loves going to see all her friends at The Doggie Playhouse. As soon as we turn onto Dawson Drive, Peanut starts getting excited at the subtle familiarity of the street and then as soon as we turn into the parking lot, forget about it - Peanut goes nuts! Her tails starts wagging like crazy and she starts making sounds of excitement because she knows where she is. Kelli and the staff are very caring and helpful. We get the feeling that they love Peanut just as much as we do and that means so much to us - It's almost like we're dropping Peanut off at family's.
My husband and I did about a week's worth of research before choosing a daycare/boarding facility and there's zero doubt that we chose the right place. The Doggie Playhouse really is a wonderful home away from home. The first time I dropped Peanut off for daycare, I admit I had a little separation anxiety - but the ladies at Doggie Playhouse emailed some pictures by mid-day showing how much fun Peanut was having with her new friends. The pictures really eased my mind and showed how attentive the ladies were to my personal needs as a parent. I thought the pictures were for my first visit only but actually, they take pictures and post them online all the time! It's a total joy to see new pictures of Peanut playing with her friends with each daycare. Not only do they take the time to take pictures of the dogs everyday, they also take the time to do the little sweet things that we're sure nowhere else does - things like making cute little treat bags for Valentine's Day, making adorable paw-print ornaments for Christmas, etc. These are things that make The Doggie Playhouse truly unique and special.
Their rates are incredibly reasonable - we'd even call it a steal for everything that Peanut gets. She can get her energy out in a very safe and fun environment with people who truly care about Peanut's wellbeing. Also, as 1st-time puppy parents, we're thankful to have such a knowledgeable resource available to answer all our questions - everything from how to get our pup to bark less to how to best introduce Peanut to our new baby girl. Our daughter arrived a little earlier than expected and Kelli and the staff were incredibly helpful and accommodating to have our little Peanut for 2 weeks while we got acclimated with the routine of taking care of our new little one.
We'll be moving by the end of the summer and will be so sad to not be able to send Peanut to Doggie Playhouse as often. We know that we'll never be able to find a place quite as loving and caring as The Doggie Playhouse."
-Ron & Caroline Laufer