The Doggie Playhouse - Daycare, Boarding, & More!
The Doggie Playhouse is a small family-owned and operated daycare that has been serving our community since 2005.
We pride ourselves in knowing each and every one of our clients personally, both two and four legged. Unlike other daycares, we keep our attendance numbers low so that every dog gets the loving and personal attention they deserve, in a safe environment.
At The Doggie Playhouse, you and your dog are not a number, you are family!
Unable to take your beloved furry family member away with you while you're on vacation or away for the holidays? We'll keep them smiling while you're away!
Make your reservations today!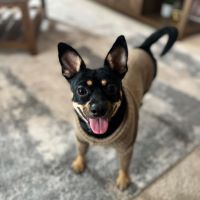 Why Consider Daycare?
Animal experts agree that exercise and socialization are an important part in maintaining a well-balanced, healthy dog. Dogs left at home for extended periods of time lack proper exercise and mental stimulation which can lead to problems such as destructive behavior, incessant barking, separation anxiety, regression in housebreaking, and more.
Does your dog...
stay home alone all day?
act out while you're gone?
whimper, cry, or bark at the door until you return?
leave you "little presents" to find when you come home?
Is your dog...
overweight, or just need more exercise?
timid, and not good around strangers or other dogs?
always begging for attention, just when you're ready to relax?
If the answer to any of the above questions is a "yes", then your dog would benefit from and enjoy going to daycare. Dogs who go to daycare have playmates for companionship and social interaction, and they have constant supervision to correct any destructive behavior. The increased social interaction will help a timid dog gain confidence, and the activity will encourage a loveable couch-potato to exercise while having fun.
If you need to be gone for the day for work or any other reason, you can be assured your dog will have a great time playing and will be just as tired as you are at the end of the day.
Quality daycare will provide the exercise and socialization your dog needs, in a safe and supervised environment.